On Monday  5th December a team of researchers for the EPSRC STORMLAMP were flown from Castletown-Bearhaven, Ireland to Fastnet Rock, 6 miles off the Irish mainland.
James Bassitt, Karen Faulkner and Ian Moon from University of Exeter, along with Alessandro Antonini from Plymouth University and Athanasios Pappas from UCL planned to stay overnight after carry out a modal test of the lighthouse, while James Bassitt installed a remote acceleration monitoring system.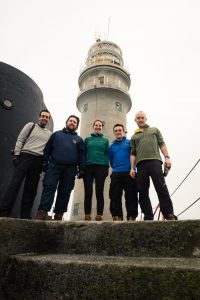 Test team on Fastnet Rock. From left: Athanasios, Alessandro, Karen, Ian, James
Following a series of modal tests on lighthouses at Les Hanois (Guernsey), Wolf Rock (Cornwall), Longships (Cornwall) and Bishop Rock (Scilly Isles), James, Ian and Alessandro had developed skills in modal testing using an array of accelerometers and an electrodynamic shaker. While these lighthouses are accessed via a helideck constructed above the lantern, Fastnet is accessed by a helipad on a utility building constructed on the cramped space of the rock with stone steps up to the lighthouse. A team of five was used at Fastnet to manage the equipment transfer to and from the upper level of the lighthouse and to allow James Bassitt to install and commission the monitoring system.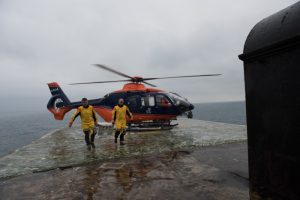 Unloading the helicopter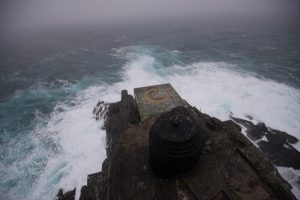 View of helipad from lighthouse lantern room
First measurements started at 2PM on Monday and continued until 9.30PM, with the APS shaker providing a narrow-band swept sine signal to excite structural modes that are typically in the range 4-6 Hz for this type of structure. The accelerometer array was left recording data overnight as storm winds and occasionally waves battered the lighthouse.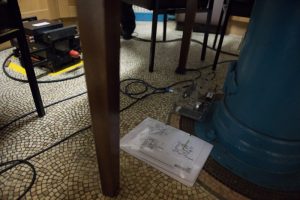 Shaker and bi-axial accelerometer pair in lighthouse kitchen.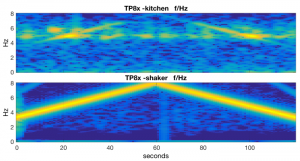 Lighthouse acceleration and shaker force data used for modal identification.
While on site James Bassitt deployed a drone for aerial footage at medium and close range.
Weather conditions of wind and sea spray overcame the drone after 11 minutes of flying the machine was returned to base with full manual control after which it was unserviceable. The short flight provided spectacular views of the rock and lighthouse.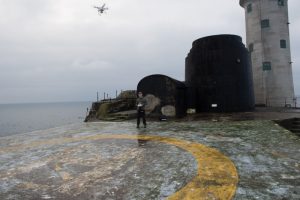 James Bassitt operating Phantom drone from helipad
Fastnet Rock is notorious for bad weather, particularly fog, hence its existence. From Tuesday 6th until Friday 9th fog was severe enough to prevent helicopter landing, stranding the team. While having more than the mandatory supply of emergency rations the team were very happy when a break in the fog allowed the pilot to make two trips to pick up crew and equipment. The Exeter team, who travel with the equipment by van and ferry arrived in Exeter late on Saturday 10th.
Without a retrofitted helideck, Fastnet Lighthouse is a relatively 'clean' structure for which to create a mathematical model.  Using the experimental modal test data and masonry stiffness estimates obtained on site using a Schmidt Hammer UCL researchers on the STORMLAMP project will be able to create a high-fidelity model which is intended to be used to estimate wave loads using response data provided by the monitoring system.
Two more lighthouse modal tests are lined up for 2017; one is likely to be Dubh Artach off the Scottish West coast and Eddystone Lighthouse off Plymouth.
This post was originally featured on veswordpresscom.wordpress.com